1. Attend a Community College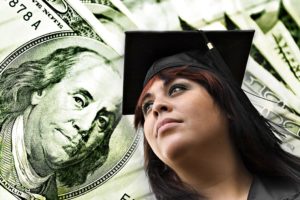 One of the top ways to spend less on college is to attend a community college. Community colleges offer associate degrees, certifications, and some even offer bachelor's degrees. They are often a third of the cost of a state college or university. Community college credits can also be transferred to a university. This significantly reduces the cost of tuition and allows you to complete 2 years of college before attending a more expensive 4-year university.
There are also other benefits you get by attending a community college. They often have such as smaller campuses, some students choose to live at home instead of spending money on a dorm, and schedules are often flexible allowing for day, night, or weekend classes. Community colleges also have a rolling admission. See our Top Ten Benefits of Community Colleges article for more information.
2. Attend an In-State College
Many students would like to consider attending school in another state or to get as far away from home as possible. However, you will want to consider the cost of an "in-state" versus "out-of-state tuition." In-state tuition is much more affordable to students. Out of state students typically pay much more in tuition, most often over three times the cost though this varies from state to state.
Colleges and universities require students to reside in the state they are attending a minimum of 12 months in order to qualify for in state tuition as well. If you are still considered a dependent of your parents, the college may also base your in-state tuition on where your parent or guardian resides. This means, if you are a dependent of your parents and decide to take a year off from college and live in another state in order to gain in state tuition the next year, do your research and make sure you will meet the requirements necessary to gain in state tuition. Most students are considered dependents until age 23 with a few exceptions such as military service or parenthood.
There are a few expectations to the in-state rule. Some neighboring states have reciprocity agreements with one another, meaning residents from a neighboring state can attend a college or university at an in-state rate. In addition, many colleges give military members and their families waivers for in-state tuition as well. As you can see, residency rules do vary by state and educational institutions so check with the college's admission office to understand each school's in-state policy prior to starting.
3. Take Duel Enrollment Courses in High School
Duel Enrollment courses are offered by many high schools (though not all) and provide students that have a proven academic record of success to take college course. This allows a student to attend two separate, academically related institutions. Most often a high school student can take a college course to earn both high school and college credits simultaneously.
Allowing a student to earn credits to graduate with a high school diploma and earn college credits at the same time can reduce the cost of college. Most often, these courses are offered at the high school or on college campuses and duel enrollment courses are usually free for high school students. These courses can be rigorous; therefore, it's important to understand that the grades earned in your dual enrollment course will stay on your transcript beyond high school. Rules can vary from state to state, however students should ask their guidance counselor for more information and the options are available to them.
4. Advanced Placement Courses (AP courses)
Advanced Placement courses also known as AP courses are managed by College Board and are another option for high school students wanting to pursue a college degree. Like dual enrollment, these are courses taught at a college level and provides students the opportunity to earn high school and college credits as well. Once a student has completed an AP class, they are eligible to take an examination proving they have mastered the content. If you score a 4 or 5 on the examination, then you will earn college credits.
Students do not earn 'grades' for AP courses though many colleges and universities give you course credit towards your degree program if you do obtain high scores on theses examinations. Most high schools offer these courses to students, though many do not.
5. College Level Examination Program (CLEP exams)
Another way to earn college credits for a low cost is by taking College Level Examination Program (CLEP) tests. These tests are available to high school students and adults. College Board also offers these exams and taking these tests can help you can earn college credit for content you have already mastered academically or in the workforce.
Exams include:
Business
Composition and Literature
History
Mathematics
World Languages (if you are bilingual, this is a great way to quickly meet your foreign language requirement)
Social Sciences
Exams (on average) cost over 80 dollars and are offered throughout the year. Exams vary from written to listening, and multiple choice questions. There are practice exams and study guides available in book stores and you may be able to check out study material free of charge at your local library. You can visit the College Board CLEP Exam webpage (link opens in a new tab) for more information. It's recommended that students check the CLEP policies at the college or university they plan on attending or are attending. Each state varies, however there are 33 core CLEP exams currently offered.
6. Apply for Scholarships and Grants
Of course it goes without saying to apply for scholarships and grants. Scholarships are free money that you can apply for prior to starting college. You can find scholarships offered by individuals, alumni, nonprofit/professional/religious organizations, private companies, social clubs, schools, and even employers. Nearly everyone is eligible for college scholarships. Scholarships vary in their amounts, ranging from tens of thousands of dollars to a hundred dollars. Students can receive multiple scholarships so apply for as many as possible.
Grants are funds that are disbursed for tuition, housing, and academics materials. Most common ones are the Pell Grant, Federal Supplemental Educational Opportunity, Academic Competitiveness, and Smart grants. Students should take to their guidance counselors or visit the Financial Aid office at the college or university they plan on attending for more information. Also see our Fund College and Scholarship page.
7. Join the Military or ROTC
Whether you want to join part-time or full-time, you can consider the military or joining ROTC. Both are viable options that will help you fund college. The military offers a number of options from providing college credit for time served, to tuition waivers, and financial assistance for active members, veterans, and their families. The educational benefits can also pay you while attending college as well. For additional information look at our Military Tuition Assistance page.
8. Finish College in Three Years
Deciding on a college major can be daunting, however if your goal is to graduate in three years, you'll want to ensure every credit you earn counts toward your major. Many students enter college and take time to decide on their major. This plan is acceptable for most, but can hinder your aspirations if you are trying to graduate in three years. If you haven't taken time to take one of our career tests this may be a get starting point.
You also want to try to attend the same college to prevent losing credit hours unless you are attending a community college that has a transfer program with a university. If you are considering transferring to a university after attending a community college, take a close look at the university's curriculum requirements and speak to an academic advisor to ensure you take the correct pre-requisites required for their chosen major. All of these recommendations will prevent you from having to take unnecessary courses or retaking courses that may not be transferrable from one college to another.
From there, there are a few ways to accelerate your graduation date. While in high school, you can take dual enrollment courses or AP courses. If you have already graduated high school, you may be able to study for and take CLEP exams. If you are fluent in another language, you can probably take CLEP courses you can pass without studying.
You can also discuss taking more than the minimum required full-time course work with an academic advisor or attend summer classes to get ahead. However, to ensure you are successful in your college courses, you may want to take the first term and get a feel of what the coursework demands look like prior to taking additional courses.
Also, check what courses are offered each term to guarantee that the courses needed for your chosen major are offered. Many times, students find themselves in the predicament because a college course needed for their major is not offered in the term that they had anticipated taking it and this can prolong their graduation date. This can be prevented by talking to an advisor and look at the master scheduling plan in advance. Each college or university should have this available.
9. Pre-taxed Savings Prior to College
College saving plans are a great way to pay for college tuition without being taxed. There are variety of ways to do this and many banks offer alternative ways to save for college. The most popular one one is called the Section 529 plan. This plan offers unsurpassed income tax breaks. Although contributions are not deductible on IRS taxes, earnings in a 529 plan grow tax-free and also will not be taxed when the money is taken out to pay for college. Many parents take advantage of this when saving for their children.
In addition, individuals with qualified retirement plans (such as IRAs or 401Ks) are often allowed to withdraw money for college penalty-free. However, you may still need to pay income tax on these accounts after withdrawing the money. Either way we encourage all individuals to talk to a financial advisor for more information on these options.
10. Cooperative Education Programs (employment while earning college credits)
Cooperative Education blends classroom-based education with practical work experience allowing you to earn credits while working in your chosen field at the same time. Many colleges offer this by either accepting your current employment or by placing you into a cooperative education workplace site. Be forewarned, that this may take you longer to graduate, but provides advancement and permanent employment options once a student graduates. Therefore, it eliminates some financial stress of not working or finding a employment after graduation.