An audiologist is a health care professional who specializes in hearing problems and subsequent balancing problems in kids and adults. Audiology is a branch of science that deals with hearing and all related problems, conditions, or disorders. They are particularly trained to manage kids where hearing problems are often first diagnosed.
Watch a video to learn what an audiologist does:
How to Become an Audiologist
To become an audiologist, you must earn a doctorate in audiology degree. You can get your bachelor's degree in any of the sciences and then proceed onto a master's degree program before starting your doctorate program in audiology. There are specialized courses that focus on audiology without offering a doctorate. However, those degrees are not always recognized for the license.
Research other Careers in Healthcare
What does a Cardiovascular Technologist do?
A cardiovascular technologist (also known as a vascular technologist) is a health…
Job Description of an Audiologist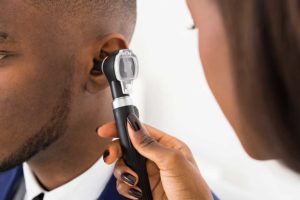 Audiologists diagnose hearing problems in kids and adults and take measures to treat the problem. They can treat patients with medical devices (such as hearing aids), prescribe medications and therapy, recommend lifestyle changes, and suggest training programs to improve or cure hearing and/or balancing problems.
Typically, audiologists prescribe and fit a person for hearing aids, provide assistance in cochlear implant programs, carry out surgeries (though not every audiologist is experienced to conduct surgeries), design and facilitate the implementation of hearing conservation programs, and offer rehabilitation. They may also be experienced in offering auditory training, speech reading, and listening skills improvement. An audiologist can have his or her own practice and running a private practice is common. They also work at other health centers or hospitals.
Audiologist Job Posting
Let's look at a job description posted by the Department of the Navy. This job announcement is looking for a person to perform the following responsibilities:
You will provide oversight and support for local fleet and shore command's local Hearing Conservation Program (HCP) at Naval Hospital Leemore.
You will serve as a full-performance level staff audiologist who practices services to allied Health/medical professional, supervisors, leaders, and line command contacts regarding occupational hearing loss and prevention strategies.
You will perform outreach and consultative hearing loss prevention services through command Assist Visits, HCP trends analysis/compliance measurements, medical record reviews, hearing protection fittings/consultations, and hearing conservation technician proficiency reviews.
You will provide data and reports to local commands regarding HCP compliance, Significant Threshold Shift (STS) rates, and other program metrics.
You will serve as a Certified Course Director, conduction periodic Hearing Conservation Courses for local audiology/hearing conservation health technician and nurse applicants leading to certification in Occupational Hearing Conservation.
This position was posted to run 01/16/2019 until 01/22/2019 with a salary range of $73,375 to $95,388 per year on USAjobs.gov (link opens in a new tab). USAjobs.gov is an official website of the United States government and part of the U.S. Office of Personnel Management.
Free Teacher and Student Resources
American Speech-Language Hearing Association (ASHA)
ASHA.org has an informative article on their website that can also help you plan your education as an audiologist. Visit their Planning Your Education in Communication Sciences and Disorders (link opens in new window) webpage.
Audiologist Career Video Transcript
Audiologists test patients' hearing and examine patients who have balance or other ear problems. Most audiologists fit patients with hearing aids and monitor their hearing over time. Because hearing loss can influence a person's well-being, audiologists evaluate psychological health and determine a patient's coping skills before they recommend treatment. They treat balance disorders with special exercises, clear ear wax from ear canals, and may fit patients with cochlear implants for some types of deafness. They may also do research or educate people on how to prevent, or cope with, hearing loss.
Compassion is essential in virtually all healthcare careers, but audiologists in particular need the patience and perseverance to find solutions for patients who may be frustrated and anxious due to hearing or balance problems. They need strong communication skills to help patients and their families understand diagnoses or treatment options. Most audiologists work in hospitals, doctors' offices, and clinics. Some work for school districts or in pharmacies. Most audiologists work full-time, including some evenings and weekends, although a significant number are employed part-time. Audiologists need a doctoral degree and must be licensed to practice in a particular state. Requirements vary by state. Doctoral degrees in audiology typically take 4 years to complete; candidates may apply to enter programs after earning a bachelor's degree in any field.
Article Citations
Bureau of Labor Statistics, U.S. Department of Labor, Occupational Outlook Handbook, Audiologists.
National Center for O*NET Development. 29-1181.00. O*NET OnLine.
The career video is in the public domain from the U. S. Department of Labor, Employment and Training Administration.