Biofuel managers are in a cutting edge field as biofuel is fuel produced from organisms such as plants and other organisms and not crude oil. Those in the biofuel industry find and create alternative fuel sources for environmental and economic benefits. The environmental advantage includes using a renewable resource, as a plant-sourced fuel can be regrown and replenished.
Watch a video to learn what a biofuels manager does:
How to Become a Biofuel Manager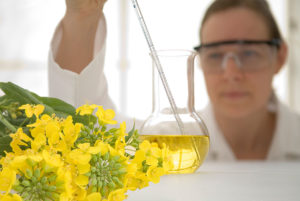 According to O*Net Online, more than half of biofuel managers hold at least a bachelor's degree with almost 30% in this field holding a master's. Look for degree programs that offer biofuels, renewable energy, and bioenergy. After earning your bachelor's degree, you'll need to gain on-the-job experience and be highly efficient in your role.
Biofuel managers are also expected to be business savvy, so gaining experience leading projects, training or mentoring others, and collaborating with those outside your department would be useful.
Job Description of a Biofuel Manager
Biofuel managers research biodiesel and biofuel options and look for methods to transport the mater. They also research ways to create biodiesel and biofuel and look for various methods to mix, filter, distill, ferment, extract, and separate substances in order to create a fuel that is usable. These managers often supervise other production employees and manage the day-to-day operations of their department. These managers would also ensure that safety processes and procedures are being followed and quality checks are being performed. As fuel is highly flammable and fumes can be toxic, safety is vital in this career field. Among other tasks they must perform, these professionals also report their production status to others in the company.
Free Teacher and Student Resources
LearnBiofuels.org offers a wide range of free biofuel lesson plans (link opens in a new tab) and they are categorized by topic and provide a list of safety guidelines as well. This site is hosts a variety of free teacher resources. The Scripps Institution of Oceanography and the College of Earth, Ocean and Atmospheric Sciences also offers a lesson plan on Biomass Energy and Algae Biofuels (link opens in a new tab) that was developed for a high school AP Environmental Science class.
Biofuel Manager Career Video Transcript
Everyone wants their transportation to be fast, safe, and cheap, but increasingly, people are also demanding that transportation be environmentally responsible. Biofuels and biodiesel technology and product development managers use their scientific research skills to deliver all of the above. Biofuels are made from plants or waste produced by farming, manufacturing, homes, and businesses. In this product development field, managers might research how products made from corn or used cooking oil can fuel a car, or how to reduce the pollutants from using dried manure or wood pellets to heat homes.
These managers oversee the work of a larger team of research and development scientists and technicians. Together, they design and conduct studies on fluid dynamics and how to extract components from materials. To gain value from waste materials, they may develop fuel from garbage and recycled materials, minimizing what gets dumped in the landfill. Most managers in this field have a bachelor's degree or higher in environmental science or biotechnology. Several years of previous experience in the field is important before securing this position. Thanks to the creative problem-solving power of these professionals, the biofuels of the future are getting cheaper, greener, and more efficient.
Article Citations
National Center for O*NET Development. 11-9041.01. O*NET OnLine.
The career video is Public Domain from the U. S. Department of Labor, Employment and Training Administration.