There are health educators and then there are community health workers. Though the two careers may sound similar, these two positions differ in their scope. Health educators teach health and wellness to others and may even provide one-on-one education. Community health workers on the other hand, connect social workers, health educators, and others in order to improve the health and wellness of entire communities.
Watch a Video:
How to Become a Community Health Worker
Community health workers do not provide clinical medical care. When health education is needed, they can also leverage health educators and social workers. Health educators require a bachelor's degree. However community health workers can be educated in 2 years or less in topics such as wellness, ethics, and general health in order to attain an entry level position in this field.
Job Description of a Community Health Worker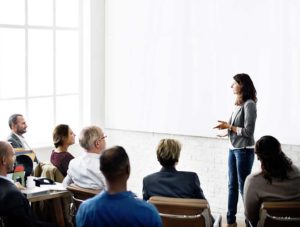 Community health workers collect health-related data and assist communities to identify the health concerns and issues of a population. They will also educate a community about any social services available and may request a health educator to talk and educate the community about their specific needs.
A community health worker can help advocate for a communities needs and craft a plan to address those needs. They would then report their information to other social service and health professionals to get a community the support they need.
Community Health Worker Career Video Transcript
For community health workers, your health is their business. These professionals devote their careers to building healthy communities by advocating for individuals and groups to meet their wellness needs. Community health workers and educators improve access to health information and care in many ways; they perform basic diagnostic procedures, attend community meetings, advise on and refer people to health services, collect information on the wellness concerns of the local community, develop programs to combat health issues, and much more.
Community health workers may work for hospitals, nonprofit organizations, government, doctors' offices, private businesses, or colleges. Depending on their geographic location and sector, community health workers and educators may do research and develop educational materials or programs surrounding themes such as proper nutrition, immunizations, HIV/AIDs, stress management, or emergency preparedness, among many other topics.
While community health workers almost always have an office, many of them spend the majority of their time in the field, distributing flyers, carrying out health awareness campaigns, and attending community meetings. Community health workers often work full-time. If you want to educate people about the importance and availability of healthcare services and work directly with people to address barriers to care, then you may want to become a community health worker or educator.
As a relatively new profession, requirements to enter the field are not very consistent. A bachelor's degree, or a Certified Health Education Specialist (CHES) credential may be helpful. Some states have their own certification programs for community health workers. To excel as a community health worker or educator, you must be an excellent writer and oral communicator, compassionate, patient, and dependable. The wellness of individuals and communities can be significantly improved through the effort and dedication of community health professionals.
Article Citations
Bureau of Labor Statistics, U.S. Department of Labor, Occupational Outlook Handbook, Health Educators.
National Center for O*NET Development. 21-1094.00. O*NET OnLine.
The career video is in the public domain from the U. S. Department of Labor, Employment and Training Administration.