A landscaper is hired to make an outdoor space look beautiful. They may even be hired to work indoors if an indoor space has many plants and vegetation. They perform many tasks from picking up litter, cutting lawns, pulling weeds, and planting or removing flowers and plants.
Watch a video to learn what a landscaper does.

How to Become a Landscaper
There is no minimum educational requirement to become a landscaper as training would be on-the-job. However, some employers may ask for a high school diploma. This may also be an ideal summer job for those in high school. According to O*NET OnLine, almost 40% of those surveyed did not have a high school diploma. About 30% of those surveyed did report having a certificate and over 15% held a bachelor's degree.
Job Description of a Landscaper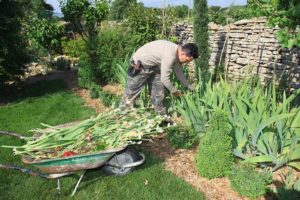 A landscaper uses hand tools and power tools to trim bushes, trees, and plants. They would operate equipment such as push lawn mowers, riding lawn mowers, chainsaws, and weed eaters to efficiently landscape an area. In addition to using hand and power tools, they also take care of plants by watering and fertilizing them and pruning them back when necessary.
Landscapers would also recommend additional ways to improve their assigned space by recommending future plant or flower placement or other design elements, such as walkways or fountains.
Landscaper Career Video Transcript
Creating and maintaining outdoor spaces is the work of grounds maintenance workers. Under the direction of a manager, they ensure that both public and private grounds are beautiful and healthy. Landscaping workers are typically employed by homeowners, apartment or office buildings, shopping malls, and hotels to plant and trim trees, flowers, and other plants. Some maintain permanent fixtures, such as walkways, patios, and decks, or install lighting and sprinkler systems.
Groundskeeping workers keep properties, such as parks and businesses looking good through every season. In summer, they care for plants, grass, and trees. In fall, they rake and mulch leaves and in winter, they clear snow. They also may maintain parking lots, fountains, swimming pools, and fences. Athletic field groundskeepers keep natural and artificial turf in top condition. They mark out boundaries and paint turf with team logos and names. At cemeteries, groundskeepers may use a backhoe to dig graves.
Greenskeepers maintain golf courses, from intensive turf maintenance, to keeping canopies and tee markers in good repair. Other workers also help keep grounds accessible: pesticide workers apply chemicals to handle weeds, insects, and diseases.
Tree trimmers and pruners work high off the ground to cut away excess branches, keeping roads and sidewalks safe, and clearing utility lines. Many grounds maintenance jobs are seasonal, although year-round positions may be available. Work is generally outdoors in all weather conditions, and involves frequent bending, kneeling, lifting, and shoveling.
Grounds maintenance workers typically do not require any formal education and are trained on-the-job. Workers who apply pesticides or fertilizers typically need a high school diploma or equivalent and must obtain a license.
Article Citations
Bureau of Labor Statistics, U.S. Department of Labor, Occupational Outlook Handbook, 37-3011 Landscaping and Groundskeeping Workers.
National Center for O*NET Development. 37-3011.00. O*NET OnLine.
The video is Public Domain from the U. S. Department of Labor, Employment and Training Administration.