A paving equipment operator is also known as a paving, surfacing, and tamping equipment operator. These workers are skilled at operating the equipment necessary to complete construction on roads, runways, or other type areas that needs ground covering. They may work to lay, spread, and even out concrete, asphalt, gravel, dirt, and other material.
Watch a Video:
How to Become a Paving, Surfacing, and Tamping Equipment Operator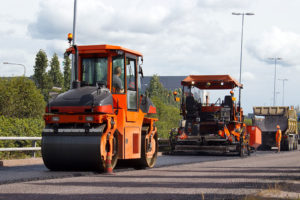 Most employers require a high school diploma in order to gain an entry-level position as a paving equipment operator. You would learn how to operate equipment on-the-job and would generally learn smaller equipment first and how to maintain it. You would also be trained on the necessary safety procedures to follow along with how to administer first aid. Because you'll be operating heavy machinery, you would need a driver's license as well. Some companies offer apprenticeship programs.
At some point, you may need to attain your commercial driver's license (or CDL) in order to haul equipment from one job to another. The CDL license requirements vary from state to state. Some states also require special licenses to operate specific types of equipment such as cranes, pile drivers, backhoes, loaders, or bulldozers.
Licenses, Certifications, and Registrations
Construction equipment operators often need a commercial driver's license (CDL) to haul their equipment to various job sites. State laws governing CDLs vary.
Job Description of a Paving, Surfacing, and Tamping Equipment Operator
A paving, surfacing, and tamping equipment operator would inspect, maintain, and operate the equipment necessary to lay, spread, smooth, and level material necessary to construct a road, parking lot, runway, or other large areas. They would be skilled to evaluate how the material was laid and adjust any settings in the equipment to even and smooth the surface and add additional material as necessary. They also work with ground crew members who assist in adding additional material to smaller areas as needed.
These workers must be alert at all times and pay close attention to their surroundings to avoid accidents. They would follow all safety procedures and use good communication via hand signals to other workers in the area. These operators often learn how to work the numerous types of equipment needed to complete a construction project.
Paving, Surfacing, and Tamping Equipment Operator Career Video Transcript
Watching huge bulldozers, graders and earthmovers in action fascinates most people, but only a skilled few can actually operate them. Construction equipment operators use machinery to move earth, construction materials, and other heavy supplies. They prepare sites for major construction projects such as roads, bridges, and buildings, and also mines, dams, and other structures.
Construction equipment operators work in all kinds of weather, and often get dirty, greasy, muddy, or dusty. Equipment can be noisy, and make no mistake, safety practices are essential. Communication is key in this field, but typically conducted with hand or audio signals rather than conversation. These workers generally work full-time, at times in remote locations. Some projects demand around the clock shifts.
Operators specialize in different equipment. Operating engineers work with power construction equipment like bulldozers, trench excavators, and road graders. Paving and surfacing equipment operators spread and smooth asphalt or concrete for roadways or other structures. Pile-driver operators use large machines to hammer heavy beams, called piles, into the ground for supporting bridges, piers, or building foundations. After earning a high school diploma or equivalent, many workers learn on-the-job starting with light equipment. Some attend vocational schools or learn through an apprenticeship. Most jobs require a commercial driver's license to haul equipment to job sites.
Article Citations
Bureau of Labor Statistics, U.S. Department of Labor, Occupational Outlook Handbook, Paving, Surfacing, and Tamping Equipment Operators.
National Center for O*NET Development. 47-2071.00. O*NET OnLine.
The career video is in the public domain from the U. S. Department of Labor, Employment and Training Administration.