A skincare specialist gives facials and skin treatments by cleansing and beautifying skin using scrubs, peels, or masks that remove dead skin and improve a client's looks and skin health. They may also use waxing or laser treatments to remove undesired hair from their clients. Some skincare specialists provide products for their clients to purchase and may specialize in a product line that sells in spas, dermatologist offices, and online.
How to Become a Skin Care Specialist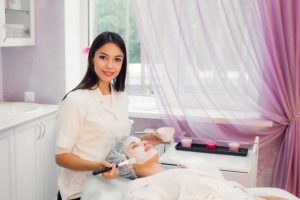 To become a skincare specialist you must be trained. You would usually attend a post-secondary or vocational school to receive this training. Training includes courses in skincare, beauty regimens, theory, and treatment techniques. You receive courses in both hands-on experience and traditional classroom teaching.
Most states require a state-approved course in esthetician or cosmetology in addition to passing an exam for a license to be able to work in this career field. Contact your state board for licensing requirements. Additional careers in skincare that are worth researching include aesthetician and esthetician.
Job Description of a Skincare Specialist
A skincare specialist is professionally responsible for cleansing and beautifying the skin to improve the health and appearance of a client. They begin with the evaluation of the skin's appearance and condition. They then design an appropriate treatment for their client to achieve optimal results. They also remove the areas of unwanted hair by using laser, wax or other methods. They thoroughly clean the skin and educate the client in the best products to use for maintenance such as lotions, creams and cleansers.
The ultimate goal is to reduce signs of aging and enhance the skin appearance in their clients. Daily, these professionals may use products to help firm skin, reduce redness and wrinkles, and even out skin tone. They also focus on various ways skincare results are achieved. For instance, they will be knowledgable about various products and skincare regiments.
A skincare specialist works in saloons, spas, and occasionally in medical offices. They typically work full time and many work overtime especially if they are self-employed. A skincare specialist spends long hours standing on their feet and work evenings or weekends to accommodate their client's schedules. Due to the focus on healthy living and reducing an aging appearance there is a faster than average growth in this occupational career field. They may also advise a person on how to properly apply make-up or provide head/neck massages to enhance the health and appearance of their client's skin. In some cases, they may give a referral to an advanced skin care professional to treat a more serious skin problem.
Skincare Specialist Career Video Transcript
Their clients could be taking a day to treat themselves at a spa, or fighting a case of acne, but no matter what, skincare specialists take the business of beauty very seriously. Skincare specialists give facials, full-body treatments, and head and neck massages to improve the health and appearance of the skin. Some may provide additional skincare treatments, such as peels, masks, and scrubs, to remove dead or dry skin. They may also recommend skincare products to clients, perform hair removal procedures, or teach clients about skincare techniques. They finish by cleaning and disinfecting any equipment as well as their work area.
Most skincare specialists work in salons or health spas, but some work in medical offices and other settings. Generally, skin care specialists work full-time and may work evenings and weekends. It is common to work more than 40 hours a week. Depending on the chemicals they use in their practice, skincare specialists may require protective clothing and a well-ventilated workspace. Having to stand for extended periods is often necessary. Skincare specialists must complete a state-approved training program and then pass a state licensure exam, which all states except Connecticut require. Although some high schools offer technical training, most people receive their training from a trade or technical school.
Article Citations
Bureau of Labor Statistics, U.S. Department of Labor, Occupational Outlook Handbook, Skincare Specialists.
National Center for O*NET Development. 39-5094.00. O*NET OnLine.
The career video is in the public domain from the U. S. Department of Labor, Employment and Training Administration.