Biologists study organisms. There are many specialties of biology. Biologists study organisms and then most specialize in a certain area of biology such as microbiology, marine biology, or wildlife biology. The focus of this article is on wildlife biologists. These biologists are most concerned about wildlife's impact on their environment as well as human's impact on their ecosystem. Their efforts directly impact the preservation or protection of wildlife and it's habitat.
Watch a Video:
How to Become a Wildlife Biologist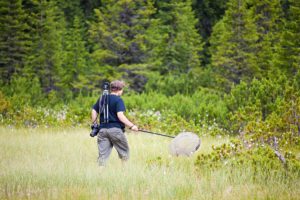 To start out in an entry-level position as a biologist, you'll need a bachelor's degree in biology. However, since many biologists specialize in one area of biology, often times a master's degree is needed.
If you would like to work at a university or lead independent research, often a Ph.D. is necessary. According to O*Net Online, half of all wildlife biologists have a bachelor's degree and the other half hold a master's degree.
Job Description of a Wildlife Biologist
You can find wildlife biologists outdoors and traveling. They spend time observing wildlife and studying their natural habitat. They would study an animal's physical characteristics as well as their behaviors. For example, wildlife biologists would be interested in how animals interact with one another, how they use their environment, and migratory or travel patterns.
Though the office may not be where you find the most of the time, wildlife biologists spend some time in an office analyzing the data they collected. They make recommendations on ways to protect wildlife-based on their findings and may collaborate with the public to consider options. In addition, they may provide educational outreach at schools, parks, and clubs.
Free Student and Teacher Resources
The National Wildlife Federation (link opens in a new tab) has educational resources for teachers such as lesson plans, webinars, and more. Their website created just for students is RangerRick.org (link opens in a new tab) and offers a free Nature Notebook that you can download blank notebook pages for.
The Massachusetts Institute of Technology (MIT) offers a free Introduction to Biology – The Secret of Life course on EdX.org (link opens in a new tab) with the option to pay a small fee receive a verified certificate upon completion of the course.
By taking this course, you'll learn:
How to describe the building blocks of life and how their interactions dictate structure and function in biology.
How to predict genotypes and phenotypes given genetics data.
How to explain the central dogma of molecular biology and convert DNA sequence to RNA sequence to protein sequence.
How to use molecular tools to study biology.
How to describe the principles of early sequencing as well as modern sequencing and the effects of these technologies on the filed of genomics.
How to apply the principles of modern biology to issues in today's society.
Wildlife Biologist Video Transcript
I absolutely love being outdoors getting to study new species all the time. Learning about how they affect the ecology of an environment is fascinating to me. Conservation really means protecting wildlife and when I say wildlife I'm not just referring to animals but I'm talking about animals, plants, and their habitats so that our future generations can enjoy the wonderful landscapes and scenery that we can today.
The U.S. Fish and Wildlife Service refuge system is actually the largest set of land and water put together specifically for the protection of wildlife. I had experiences at Maine Coastal Islands National Wildlife Refuge setting puffins. I later went to Umbagog National Wildlife Refuge in New Hampshire monitoring loon populations and moose populations. I had the experience of working at Blackwater National Wildlife Refuge studying an endangered species which will now be delisted soon called the dalmarva fox squirrel. They are these big oversized squirrels that seem to be getting hit by cars a lot because they are so slow and sluggish.
Most squirrels go tree to tree to tree, well these guys are so slow that they come down a tree, go on the ground, come all the way back up the next tree, down the tree, and again but their populations are coming back now. When you collect all that data and all that information there's a time when you have to be in the office to kind of analyze everything to see what the trends are to see what the populations are doing and that is very important data and very important things to do. You can also Chelsea in Conservation Connect, visit nctc.fws.gov/conservationconnect/. In each episode you'll learn different careers, wildlife animals, and technology used to protect those animals. To find a wildlife refuge near you, visit fws.gov/refuges.
Article Citations
Bureau of Labor Statistics, U.S. Department of Labor, Occupational Outlook Handbook, Zoologists and Wildlife Biologists.
National Center for O*NET Development. 19-1023.00. O*NET OnLine.
The career video is in the Public Domain and originally hosted on Kids.gov which is now USA.gov, an interagency product administered by USAGov, a division of the U.S. General Services Administration's Technology Transformation Service.